Category | Food
Sonoma Gold Cafe Review
What's up foodie lovers, today we are going to talk about cafe review. Have you ever heard about Sonoma Gold Cafe in Bandung ? This cafe really has a nice and cozy place, which make us feel comfortable when we were enjoying our meals. There are 2 branches of Sonoma Gold Cafe, the first is at Jl. Lombok number 29 Merdeka and the other is at Jl. Bengawan number 33 Cihampit.
Not only well-known with its steak, this cafe also has some unique menu which is served in western style. When you first entering this cafe, you will be surprised with its interior design. With its wonderful design and the cute decoration, makes this place looking like a "Adventure in Wonderland". You will find a new sensation and its furniture also support the interior too. All i have to say is you must visit this place, a wonderful cafe with a nice atmosphere.
Let's take a look at the interior design, nice isn't it?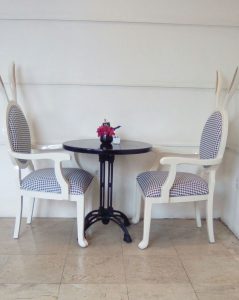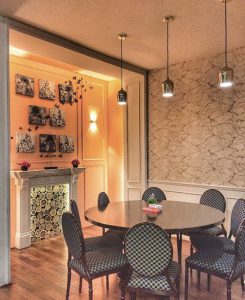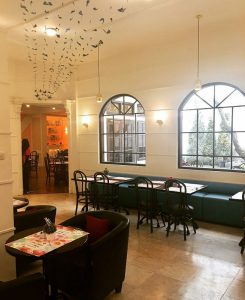 Sonoma Menu
For their menu,  they have a special menu, it's Gold Menu. Why it is called Sonoma Gold? Actually, it because there is a big raclette cheese toppin, which is serving its super melted cheese in front of you. If you come to this place you should try the other menu too. They have pasta, pizza, burger, hotdog, dessert, pastries, pancake, and manymore. For it beverages, they have coffee, tea, juice, smoothies, frappe, mocktail, and soda.
This is the special menu, New York Steak and its Slice Layer Cake
If you want to know more about Sonoma Gold Cafe, you can also take a look on their instagram @sonomaresto and @sonomaresto.gold. And if you come in weekdays (Monday – Friday), you will get a special offering, it's buy 2 get 1 free !!! Do you want to know what we like from this cafe? When you feel tired for waiting your meals, they will give you additional kind of compliment services like giving garlic breads and etc.
And this is our journey at Sonoma Gold Cafe Bandung. If you want to know more about different food review in Bandung City, don't forget to follow us at our Instagram account @yonz_aditya and @ovieadriela08. Thank you and keep watching our next restaurant review !
---
Apakah kalian berkeinginan pergi ke perancis?. atau kalian memang berniat untuk tinggal…
Next